About Us

Introduction
Hotel Trinetar Resorts
Welcome to Hotel Trinetar Resorts An ultra modern hotel has resting on the Shivalik Mountains, surrounded by virgin deodar forests, with towering snow capped Mountains, overlooking lies Hotel Trinetar. It is situated at Padoura Enclave, just 1.5 km from National Highway and a few minutes distance from Nag Temple in Patnitop.
It is absolute luxury. It will be pleasure to serve you with maximum facilities & comfort.
About Patnitop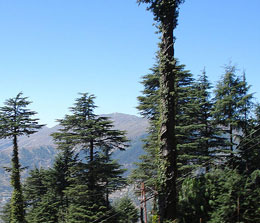 Introduction
Patnitop is a hilltop tourist location in Udhampur district in Jammu and Kashmir state of India on National Highway 1A 112 km (70 mi) from Jammu on the way from Udhampur to Srinagar. Situated on a plateau in the Shiwalik belt of the Himalayas, Patnitop sits at an altitude of 2,024 m (6,640 ft). The river Chenab flows in close proximity to this location.
Enveloped by thickly wooded Cedar/Deodar forests, Patnitop offers beautiful picnic spots, peaceful walks and breathtaking views of the mountainscape of the Chenab basin. In winter, the resort is generally covered with a thick mantle of snow thus providing opportunities for various snow games including skiing. It is the closest winter resort to Jammu and to Udhampur and is second to none in its natural charm, climate, pine forests and lush green cover. J&K Tourism as well as the army have some holiday homes here.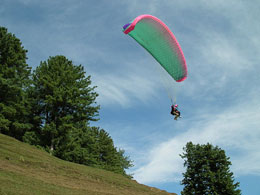 Paragliding at Patnitop
One can enjoy the thrill of flying, at Patnitop. The paragliding joyrides rides are conducted at Dawariyai, 2 km (1 mi) landmark, on the Patnitop-Sanasar road. One can ask for paragliding at the Patnitop Development Authority (PDA) barrier.
Patnitop Bypass Road Tunnel
Snowfall and avalanche in winter at Patnitop obstructs National Highway 1A a few times every winter and causes long queues of vehicles - sometimes for days at length. India's longest road tunnel, the 9.2 km (6 mi) long Chenani-Nashri Tunnel or Patnitop Tunnel is being constructed starting from about 2 km (1 mi) from Chenani town south of Patnitop to Nashri village north of Patnitop to reduce the distance from Jammu to Srinagar and reduce traffic jams on NH-1A that occur due to snowfall and avalanche in winter at Patnitop.
When the tunnel is completed, the highway will no longer pass through Patnitop. The tunnel will reduce the length of the highway by 31 km (19 mi) and the highway will bypass Patnitop. About 2 km (1 mi) of the tunnel had been excavated by April 2012 and about 50% of the length had been excavated by January 2013.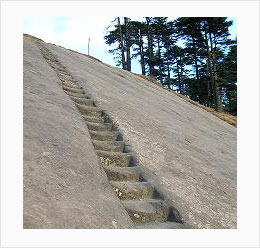 Billo Ki Powri
Billo ki powri is a staircase of 270 steps carved across a mountain face. These steps lie across a stone face between Kud and Patnitop. This is a moderate day trek that takes around 1 to 2 hours to complete. The climb starts just after Hotel Jai Skahan and ends at the Patnitop-Sanasar road, two kilometres from Patnitop.
Patnitop to Sudh Mahadev
This 15 kilometre / 5-6 hours moderate day trek starts near Hotel Green Top, Patnitop and ends at the historical Shiv temple at Sudh Mahadev. This temple is believed to be 2800 years old. The trek winds its way across Shivgarh ridge and affords beautiful views over Chenani- Mantalai Valley.
Trek over an un-named ridge
This 11 kilometre / 6 hours difficult day trek starts and ends at Patnitop. This trek leads you over an unnamed 'dhar' (or ridge) near Shivgarh, and involves a difficult ascent and descent over an unmarked trail. Caution and experience is needed when attempting this trek.